With CM DATA you have insight into all your customer data. You can link different sources and integrations to CM DATA, giving you a complete picture of your customers. You can use these insights to create segments. Segments can be used for (marketing) campaigns. By exporting a segment to Address Book you can, for example, create an e-mail or SMS campaign. The results of your campaigns are transferred directly to CM DATA. This allows you to immediately see which campaigns are successful and which conversion they generate. Thanks to the dashboard, these kinds of insights can easily be monitored.
You can find the CM DATA app on the [CM.com Platform]. Click on the nine dots and select the Data app.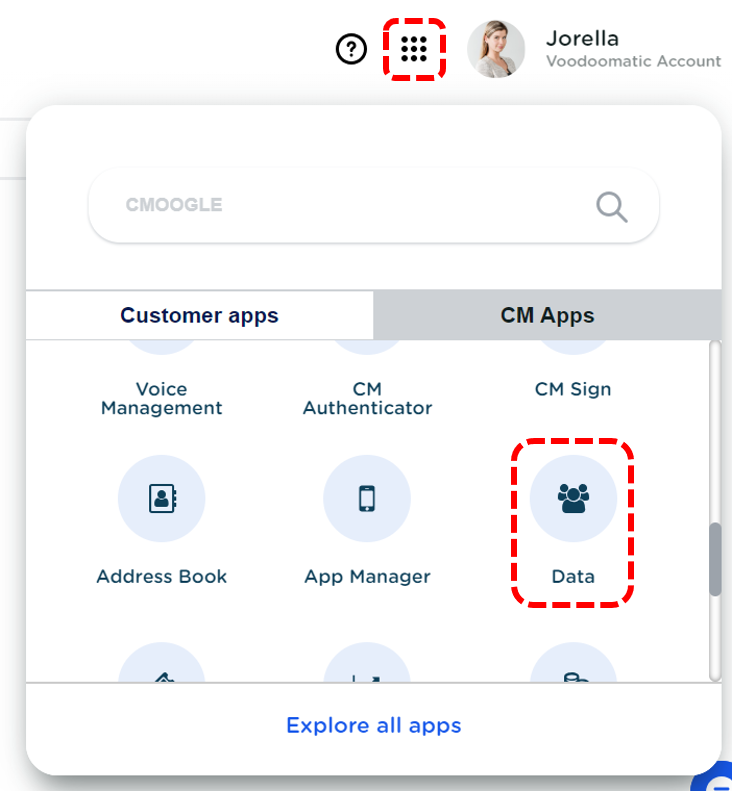 Or go directly to the CM Data App
Profile insights
When you open the App you come to the Profile insights page. On this page you get an overview of your profiles and the primary data that you have of these profiles.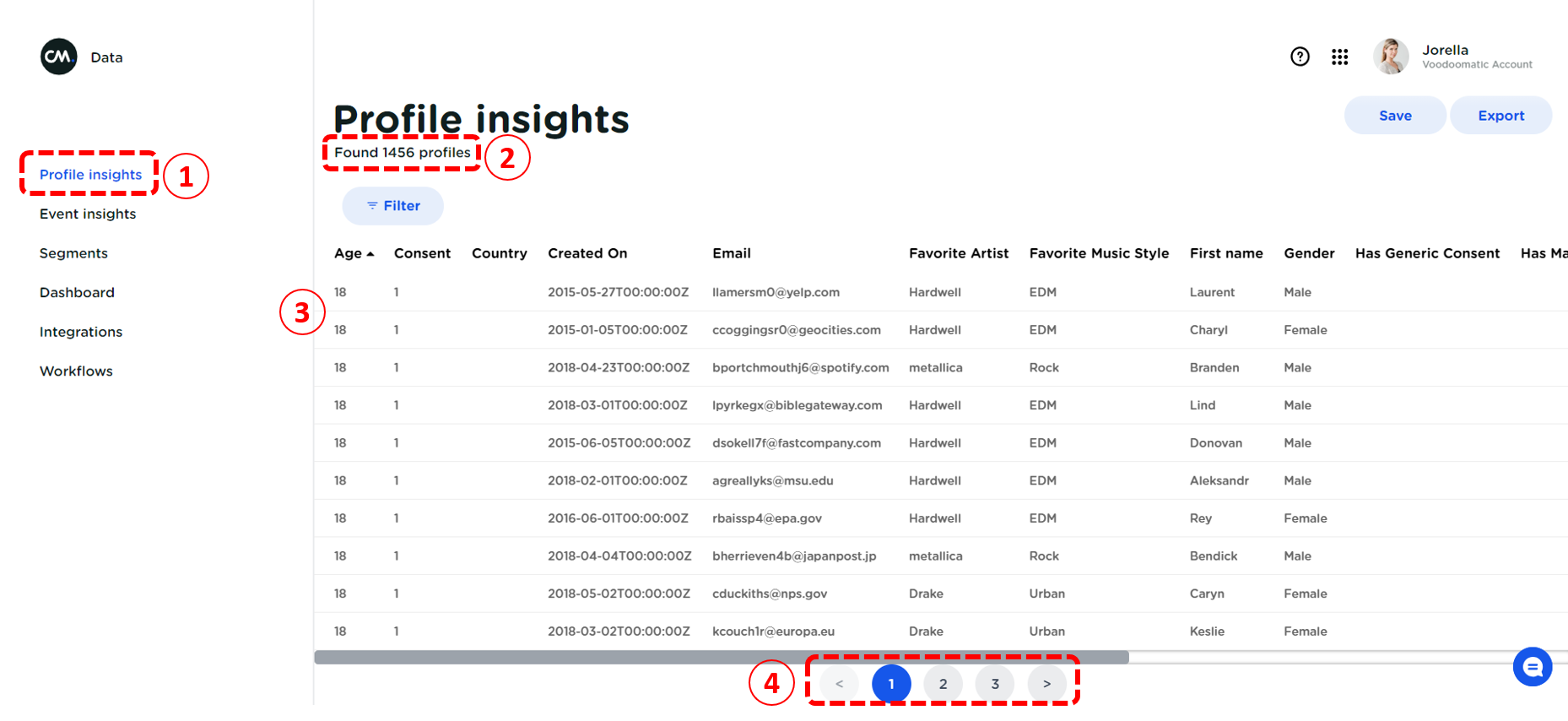 On the left side of the sidebar (1) you can see where you are in CM Data. On the insights page you can easily get some insights into your data. For example, under Profile insights you can see a number (2). This number represents your number of profiles in CM Data. Below are the most important primary data (3). In the example you will see email addresses and names of multiple customers. By clicking on one of the headers, the list is sorted based on that value. For example, by clicking "Created on", the last added profile is shown at the top. At the bottom of the page (4) you can navigate through the pages.
Profile
By clicking on one of the rules on the Profile insights page you go to the profile of this person.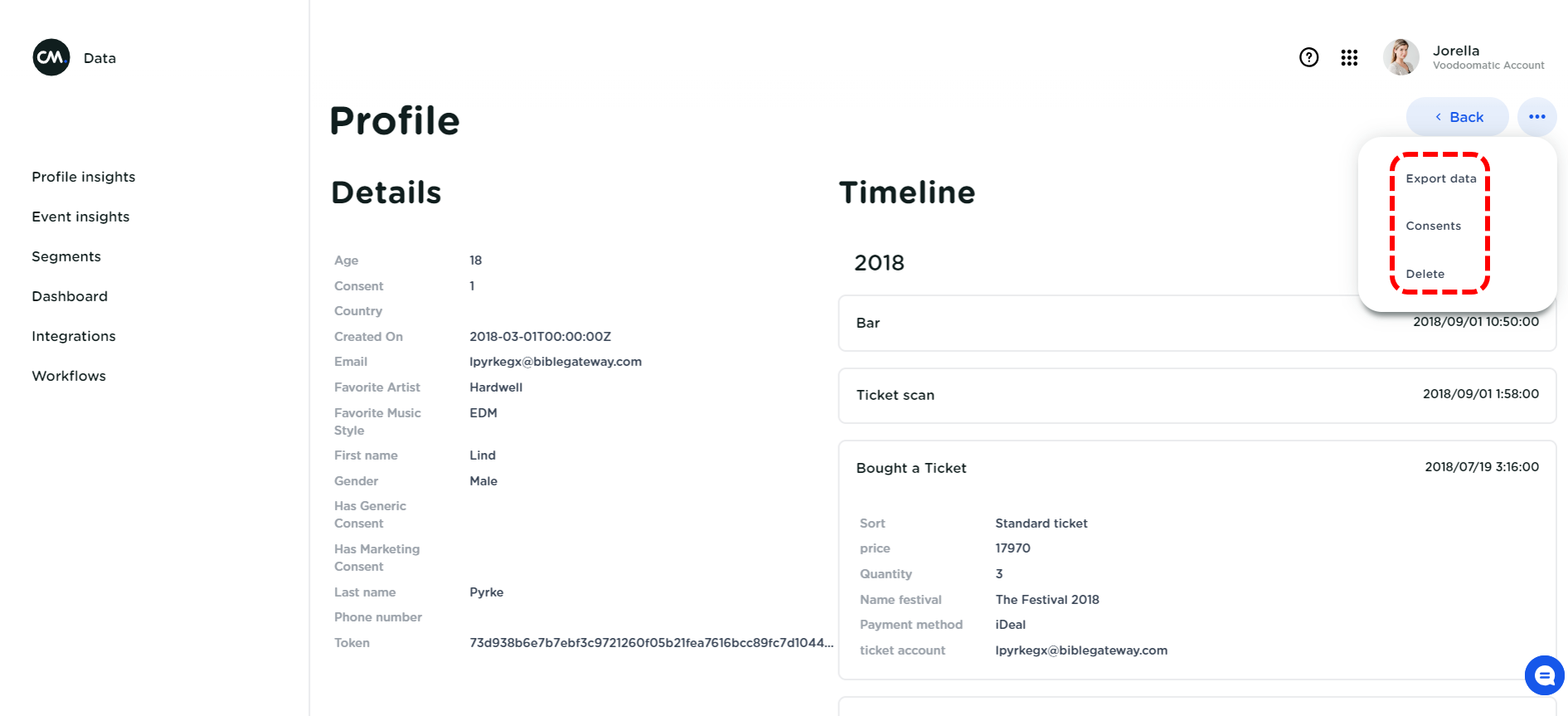 On the left you can find the details that belong to a profile. This contains, for example, the name, gender and primary e-mail address of a profile. A timeline can be seen on the right. This timeline shows all events that pass through a profile. Which Events are shown depend on the sources that are linked to your CM Data. In the example we see that the profile has bought a ticket, a ticket has been scanned and that he bought something at the bar. By clicking on an event, the event unfolds more information.
At the top right of the profile you see a button with three dots. If you press this button, you will see three important functionalities:
Export data: With this button you can export the profile and the events from the profile.
Delete: Please note! With this button you delete a profile. Never delete a profile, because this profile can not be restored. If you want to delete a profile, for example at the request of a customer, click on Delete again. The profile has now been deleted from CM DATA.
Consents: This button indicates whether the customer has given permission to receive marketing communications. By clicking on the button you can change the privacy settings of the profile.
Event insights
If you don't want to look at customer profiles but at one specific event, you can do this with Event Insights. In Event Insights you can select an Event in the selection bar under Event type. By doing this you will see the insights changing with the data associated with that event. At the top right you can export this information as CSV.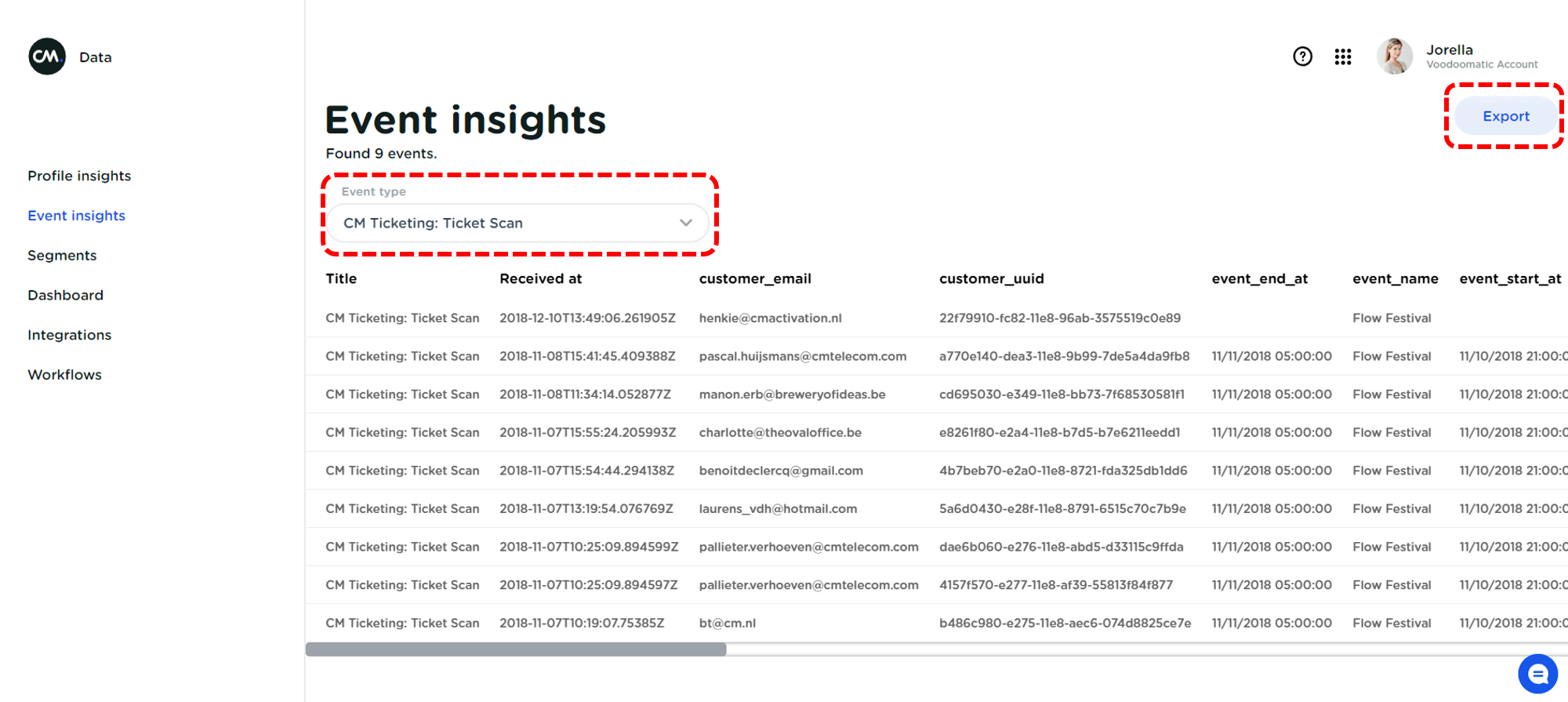 Build segments
With insights you can start building segments. A segment is a group of profiles with matching characteristics. You define these characteristics with the filter button under the Insights tab.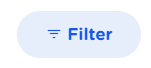 Click on the filter button to build a new block.
Select the profile attribute or event which you want to segment. In this example, we only want to include profiles whose age is below 30.

In the second field you indicate what you want to do with the attribute:
Equals: Equal to
Does not equal: Not equal to
Empty: Is not filled
Not Empty: Is filled
Less than: Smaller than that
Greater than: greater than
Select a property of the attribute you want to segment. In the example this is 30.

Click on the checkmark to execute the segment. This also shows the segment directly. If you don't want to run the segment, click on the cross.

If you want to include another characteristic in the segment, you can do this by filling in the next line. For example, if you want to mail all profiles below 30 years of age, it's advisable to specify the segment with only customers who have an e-mail address: Email ~ Is not Empty. In the next paragraph we'll go more in detail about extensive segmentation.

Under Profile insights you can see how many profiles are in your segment.

Are you satisfied with the segment? Save the segment with the Save button

Do you want to retrieve the profiles from CM Data? With the Export function you can export the segment completely as .CSV. When you open the .CSV with Excel, you see the same list as in CM Data.
Extend segmentation
CM Data also gives you the possibility to put multiple target groups in one segment. This can be can come in handy if you want to send the same expression to multiple target groups. For example, we know that profiles under 30 years respond well to our promotion. Profiles that have bought a ticket for the event in 2017 also show interest. We would like to approach these two groups with one campaign. To put all these profiles in one segment, you extend the selection by adding an extra block.
By clicking on the filter button you can add an extra group.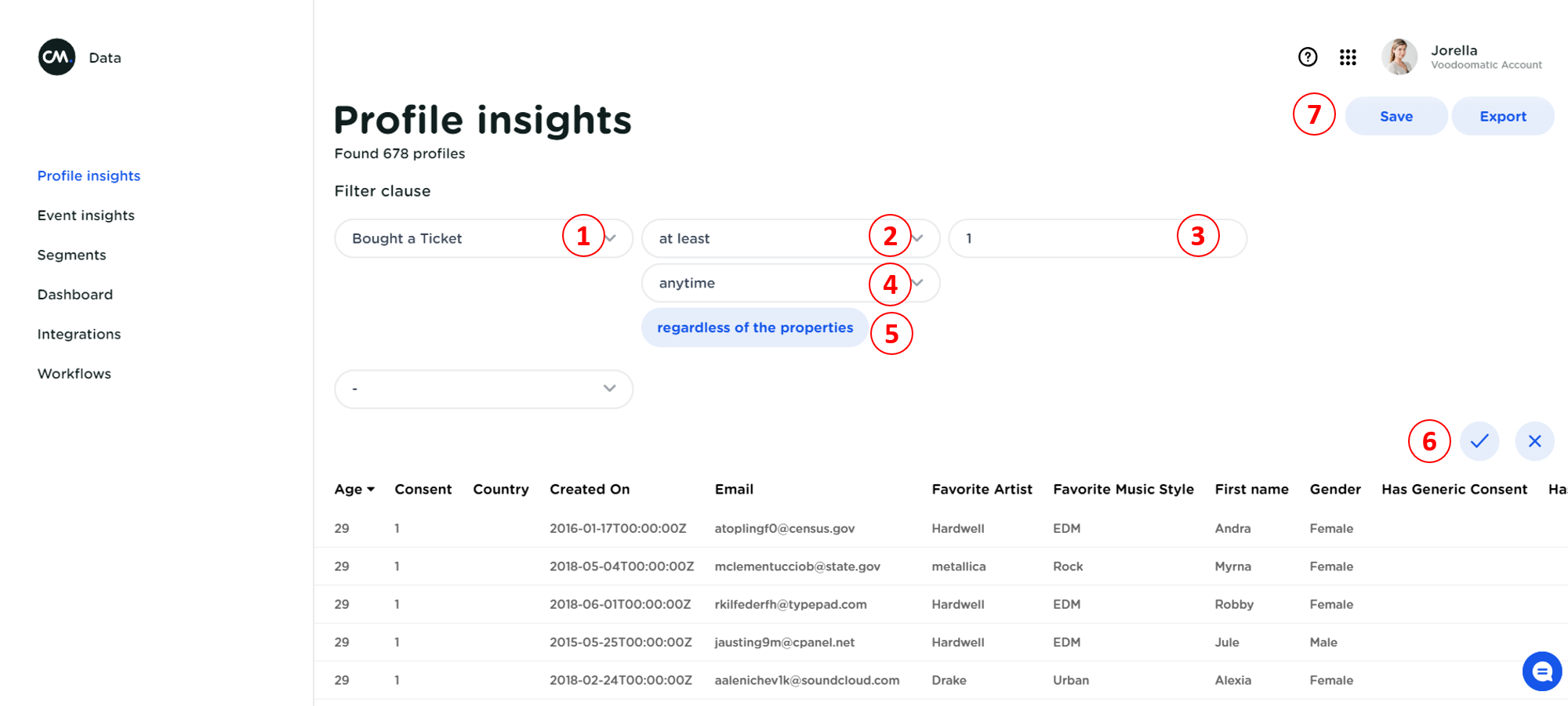 Met het eerst veld selecteren je het kenmerk. Ditmaal is het kenmerk geen profielgegeven maar informatie die uit een Event komt. Een Event is een gebeurtenis in één van de gekoppelde bronnen. In het voorbeeld is het Event een "Bought a ticket" (profiel heeft een ticket gekocht).
Bij dit Event kun kiezen tussen "At least" of "At most".

At least: Profielen die ten minste 1 ticket hebben gekocht
At Most: Profielen die maximaal 1 Ticket hebben gekocht

Vul in het derde veld de kwantiteit in. Als je bijvoorbeeld alleen klanten wilt selecteren die minimaal twee keer een ticket hebben gekocht, maak je er "2" van. Wil je klanten selecteren die geen ticket hebben gekocht? Selecteer dan "At Most" | "0"
Je kan je een datum toevoegen. Deze datum staat nu op "Anytime". Als je alleen de profielen wilt selecteren waarvan het ticket op een bepaalde datum verkocht is, dan kan je een datum invullen.
In het vijfde veld kan je aangeven of je rekening wilt houden met eigenschappen van het Event. In ons voorbeeld willen we alleen ticket kopers meenemen van het evenement "The Festival 2017".

Klik op regardless of the properties. Bovenstaand venster komt naar voren.
klik op de filterknop
Selecteer in het eerste veld Name festival: dit betekend dat je de eigenschap "naam van het festival" mee neemt in de selectie.
Bepaal, op eenzelfde wijze als bij de segment opbouw, of je "Equals" of iets anders wilt gebruiken.
Begin de naam te typen in het laatste veld , de app zal het veld automatisch aanvullen.
Klik op het vinkje en sluit het pop-up venster

Klik op het vinkje en het nieuwe segment wordt berekend. Nu heb je een segment met profielen:

waarvan de leeftijd onder de 30 jaar is EN een emailadres hebben
OF
die een ticket gekocht hebben voor The Festival 2017

Sla je Segment op door op het Save icoon te klikken. Vul een Naam in voor je segment. Je kan optioneel ook een beschrijving mee geven. Klik op Save Segment om het opslaan te voltooien.
Segments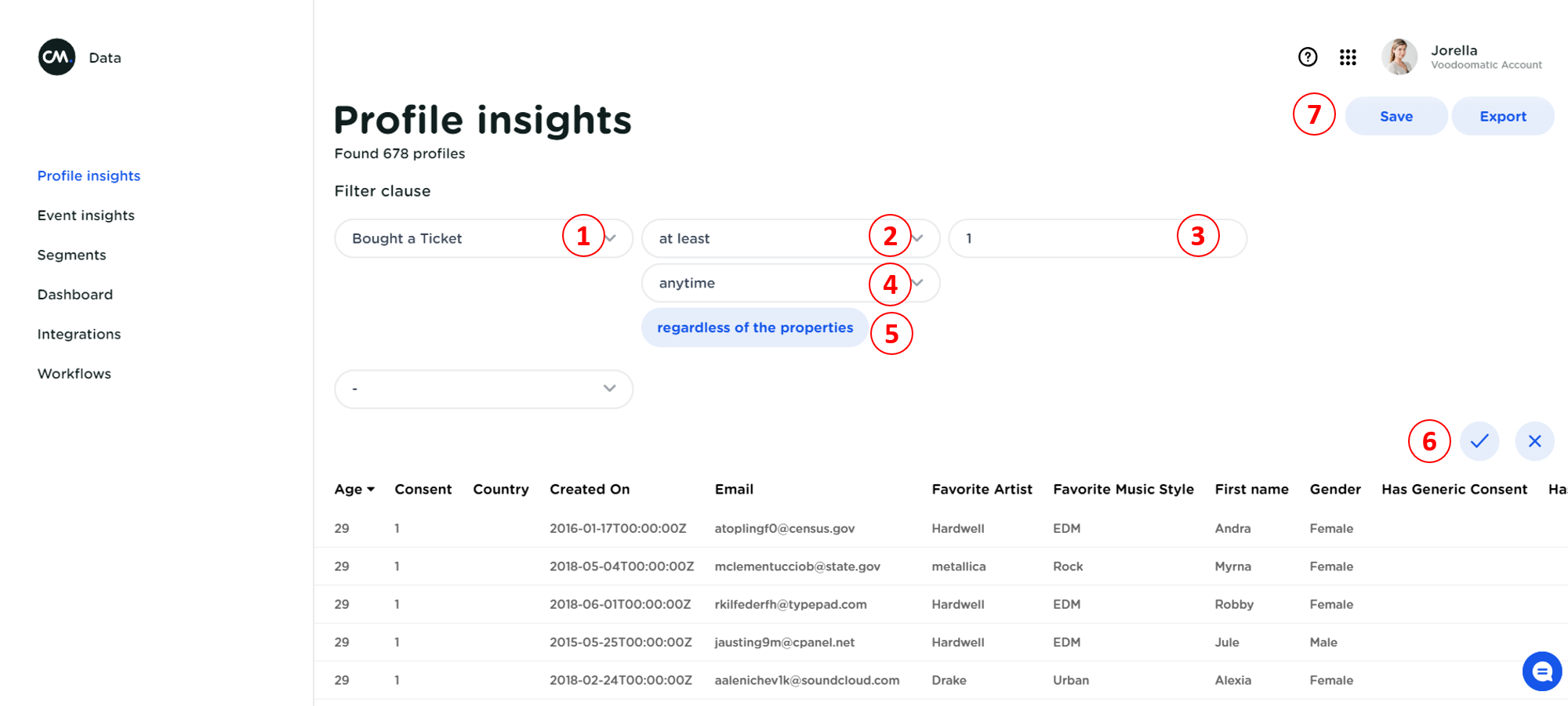 Nadat je het eerste segment aangemaakt hebt, kun je deze terugvinden onder het tabblad Segments. Segments is een overzicht van alle segmenten die je hebt gemaakt en opgeslagen. Ook Kan je met de "Add" knop, ook een nieuw segment aanmaken. Achter het opgeslagen segment staat aangegeven hoeveel profielen in het segment zitten. Helemaal rechts van het segment staan drie puntjes. Als je daarop klikt krijg je twee opties:
Sync: De eerste knop zorgt ervoor dat het segment in Address book verschijnt. Met Address Book kan je verschillende campagnes aftrappen. Meer informatie vind je op de Help Center van Address Book.
Delete: De tweede knop zorgt ervoor dat het opgeslagen segment verwijderd wordt. Als je hierop klikt, zal het segment direct uit je overzicht gehaald worden. Wees dus voorzichtig als je niet zeker weet of je een segment nog nodig gaat hebben.
Dashboard
All insights come together in the dashboard. You can decide for yourself which graphs you want to see with which data.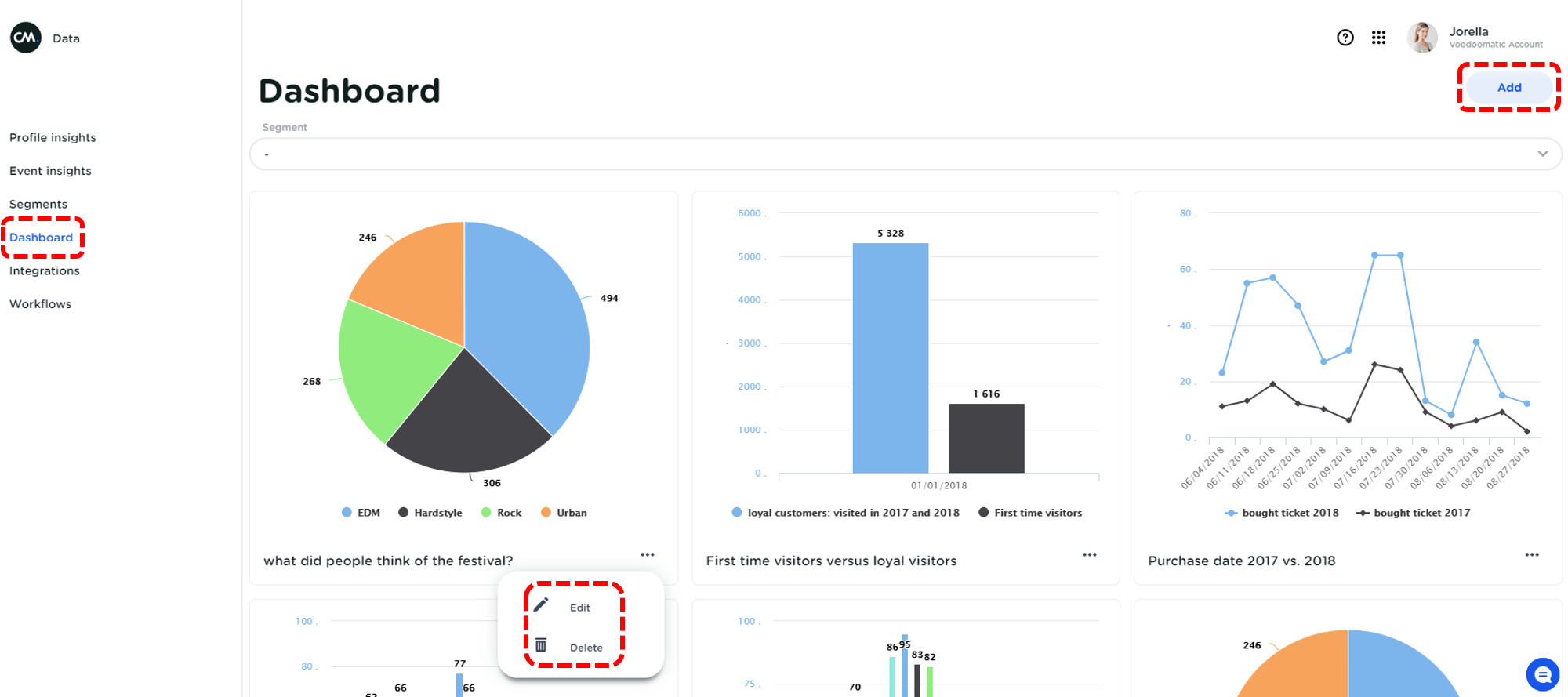 Create new graph
To add a new graph to your dashboard click on Add in the top right corner.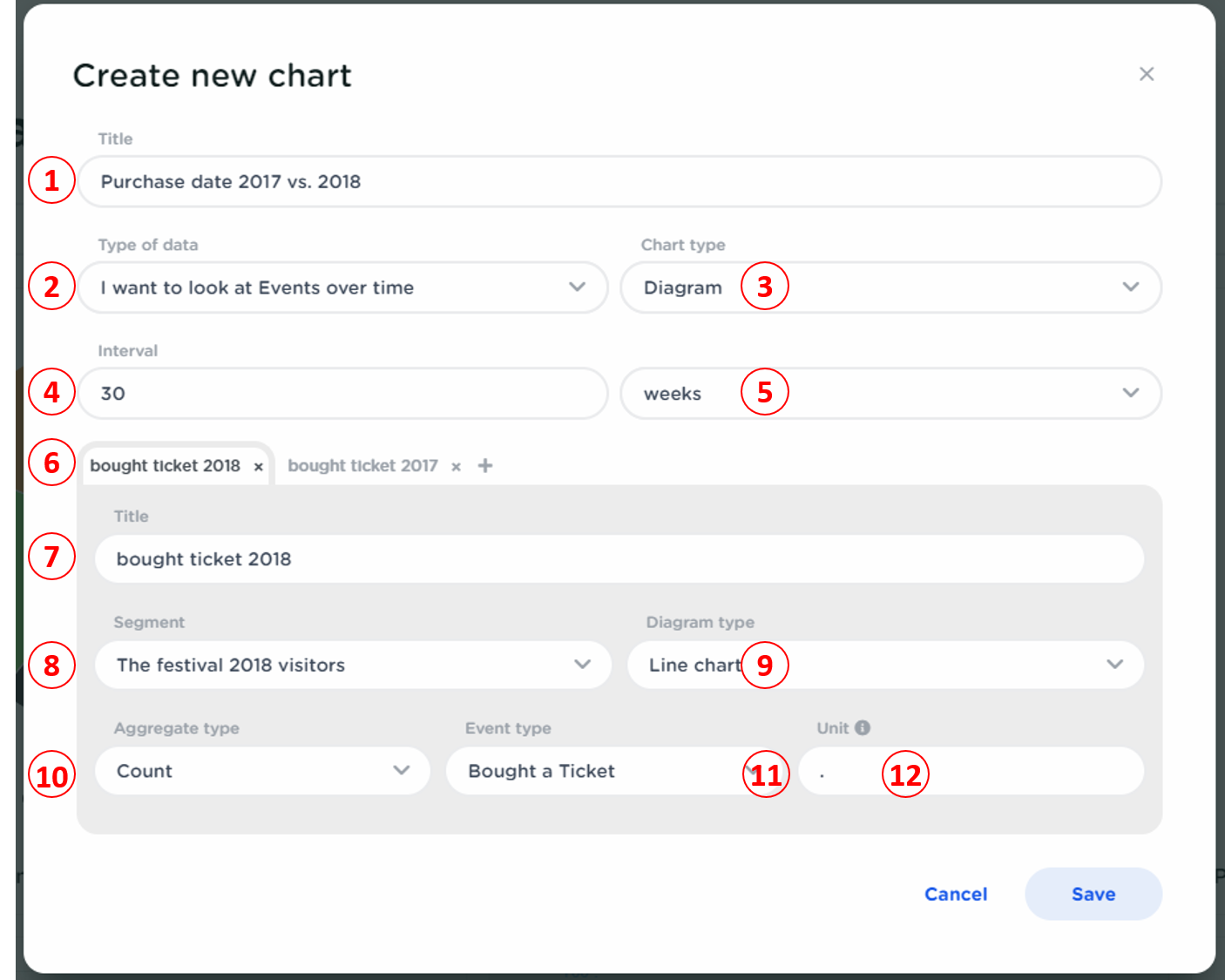 Met Add komt bovenstaand scherm naar voren.
Start met de titel voor je grafiek.
Bepaal hier wat je met de grafiek wilt zien. Wil je dat de grafiek profielgegevens toont,wil je naar Event-gegevens kijken of wil je zien hoe een event over tijd veranderd?
Geef hier aan of je een grafiek of tabel wilt tonen
Interval zijn 2 velden geef in het eerste veld de kwantiteit aan
In het tweede veld kun je aangeven naar welke tijd je wilt kijken bijvoorbeeld: maak een grafiek waarin ik de laaste 30 weken zie.
Hier kan je aangeven of je met Series wilt werken. Een serie is eigenlijk één segment. Soms wil je segmenten vergelijken. Bijvoorbeeld: hoeveel verloopt de kaartverkoop van jongeren ten opzichte van ouderen?
Geeft de Serie een titel .
Kies het segment waar je een grafiek van wilt maken. Je hoeft geen segment te kiezen als je naar het totaal aantal profielen wilt kijken.
Kies een visualisatie: pie chart, Line chart of Bar chart
Geeft aan wat je wilt doen met het Event type. Optellen (count), Sommeren (sum) of het gemiddelde (average)

Hier geef je aan naar welk event type je wilt kijken. In dit geval kijken we naar het aantal verkochte tickets en tellen die per week op.
stel nog een Unit in, zoals "aantal tickets" Sla je grafiek op door op Save te klikken.
Adjust graph
If you want to change a graph, you can easily do so in CM Data.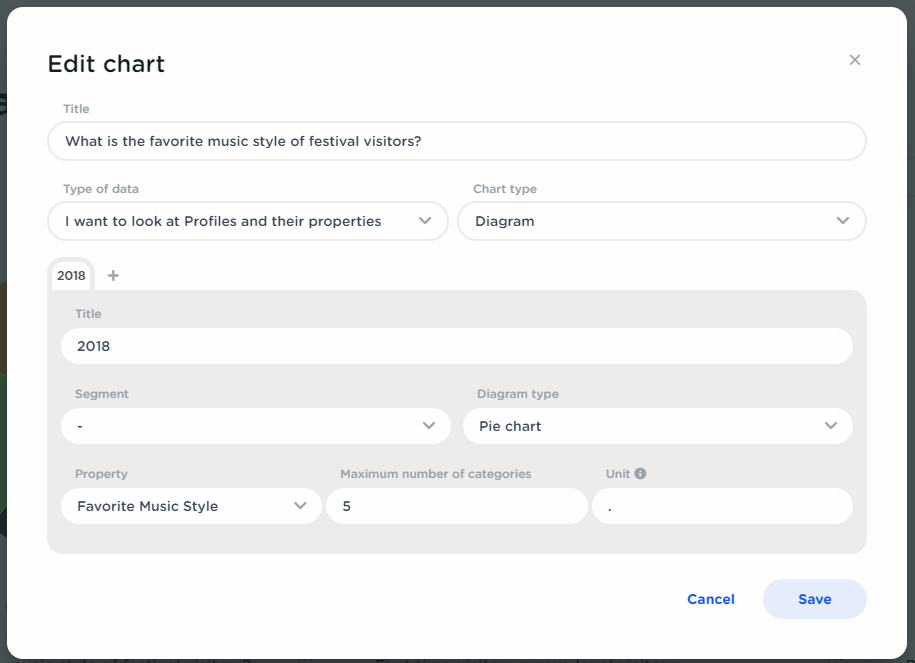 Klik op de drie puntjes rechts onderin de grafiek die je wilt aanpassen.
Het edit scherm komt tevoorschijn. Deze komt overeen met het Create Chart scherm.
Omdat dit een grafiek is die kijkt naar Profielen, Zijn er een aantal velden anders gedefinieerd dan als je Data type op "I want to look at events over time" hebt staan. De principes blijven hetzelfde.
If you can't figure out how to edit or create graphs, please contact your onboarding manager.
Integrations
In Integrations you see data sources that you can link or configure. The Consents source is on by default. This source allows you to configure the privacy settings from profiles. Customers can give permission or unsubscribe from (marketing) communications. For more information, please contact your onboarding manager.
Probably more sources are integrated than you can see on the Integrations page. These are resources that are implemented by default on the account. If you want to see all Integrations you can best view the field at Event Insights. Here you see all Events that are integrated.
Contact
If you have any questions. Please contact your Onboarding Manager or send an e-mail to jorella.vanderlinden@cm.nl