Country Info
Mobile Country Code: 206
Mobile Prefix: 4
Mobile Number Portability: yes
Mobile Phones: 12M
Population: 11M

Telecom Authorities: BIPT & Ethical Commission
Codes of Conduct: GOF & Ethical code

CM's Country Regulation Interpretation
The telecom authority decided that, to give end users the best experience, dynamic senders are not allowed. The content of a message determines the shortcode range (for example: 8850 for free bulk traffic). Follow this diagram to determine the shortcode that matches your content.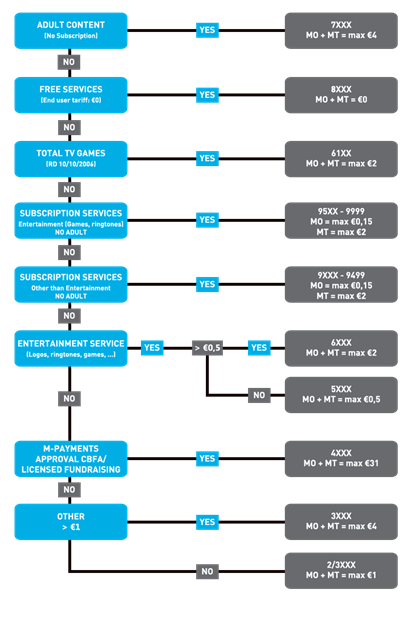 This decision tree should be read from the Top to the bottom by asking question about the SMS service offered:
- Is it an adult service? NO -> Next question of the list
- Is it a free service? NO -> Next question of the list
- Is it a TV Game? Yes -> then you must us a 61xx short code

Also, it is important to select the good service behind the SMS Service. (i.e. payment to access an adult website, is NOT Payment but Adult service)

Dedicated longcodes are available for 2 way messaging services on request.
---
Sender Restrictions
Dynamic alphanumeric senders are not allowed.
Dynamic numeric senders are not allowed. Fixed numeric senders available on request.
Shortcode senders are allowed after registration of your service.

Content Restrictions
There are no restrictions other than those that prevent abuse (spam, phishing, etc).

Capabilities
All Belgian operators support handset DLR.
All Belgian operators support concatenated SMS
All Belgian operators support unicode

---
CM's advantage
CM has direct access to a live MNP database of Belgium.
CM has direct connections to all Belgian operators.
CM has a local presence in Belgium (Brussels).

---