Email Campaigns is CM's email marketing tool for companies to send out all sort of email campaigns (newsletters, promotion emails, CRM related, etc.). This online App offers a lot of options in terms of personalization and insights of your sending.
Email campaigns is only available for Essentials, Business and Enterprise accounts. If you want to upgrade or set up an account including Email Campaigns, please contact sales@cmtelecom.com.
1.Go to the Email Campaigns app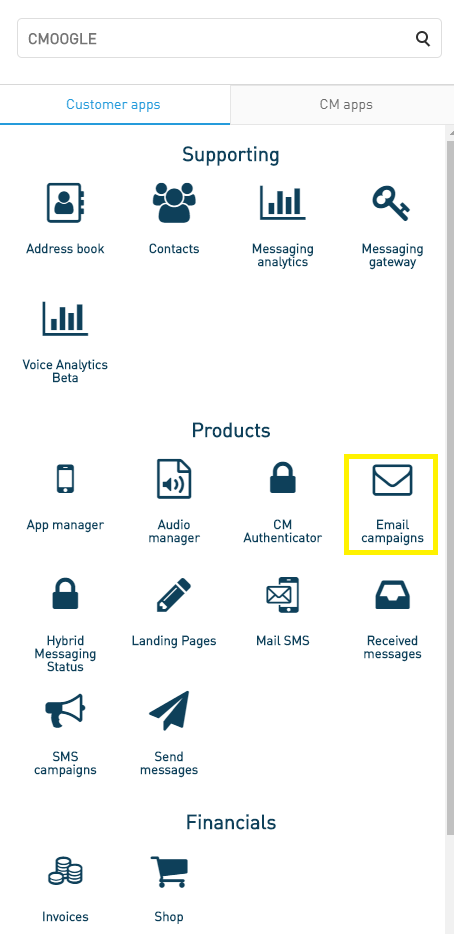 2. Navigate in the app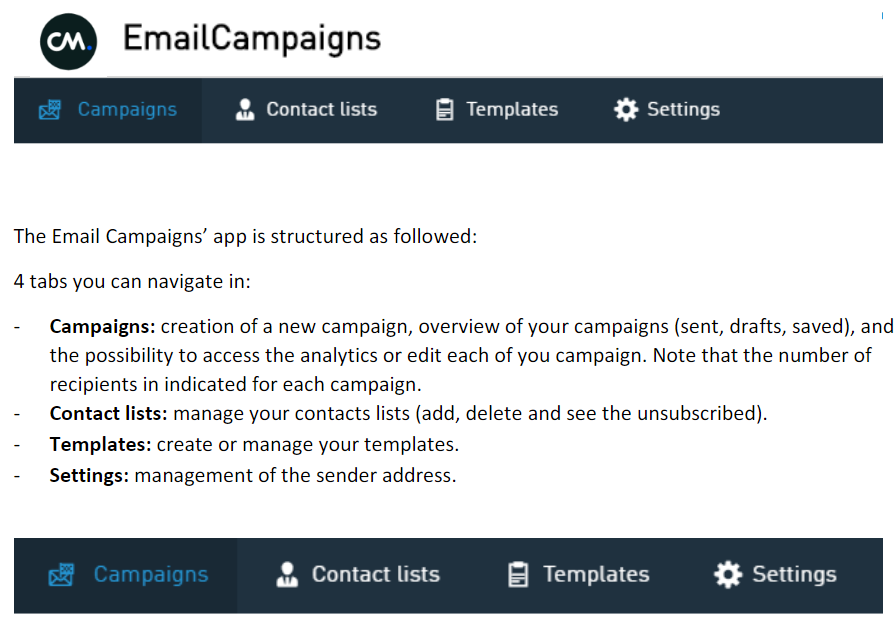 3. The Email campaign overiew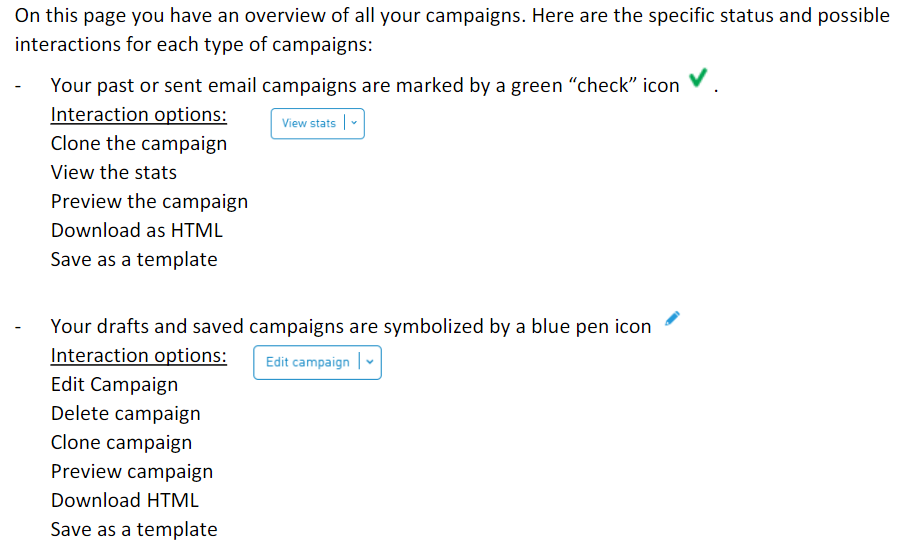 4. Create a new campaign by clicking on the + button. The campaign menu looks as followed:

Campaigns settings: set-up your campaign (subject, sender name, contact list to send to, scheduling, use of a template, etc.)
To setup a new Sender Email Address, youwill need to verify that the email address you are intending to use is managed by you. This verification email address is from our supplying partner, Amazon and could end up in your spam box. So please, make sure you've checked your spam box if you're notreceiving the verification email.
Important - How to add a merge tag as a subject line: You need to select an address list. As merge tags are linked to the address list, the more information you have in your address list, the more merge tags you can have.
For example: in addition to your customer email address, you also have his or hers NAME and FIRSTNAME. Then you can create a subject line that will personalize each email with the NAME and FIRSTNAME.
Design= design your mailer (drag & drop content, define a structure, add buttons, html, etc.). Your creativity is the limit!
Type campaign name = name your campaign i.e. "Monthly Newsletter". This name will only be shown in the App.
Send test mail =you can either send a test email to selected recipients, or preview the campaign (to see what it looks like in a mailbox or a browser).
Back=go back to the previous page (campaign overview)
Save= save your campaign as a draft you can edit or send anytime.
Send=send your email campaign to your recipients
5. Campaign analytics Analytics are divided into 5 main parts:

Recipients = amountof recipients the campaign has been sent to.
Delivered = date and time the campaign has been delivered
List = name of the contact list the campaign has been sent to.
From=sender address used to send out the campaign. This can be set-up in the "Settings" tab. 5. Subject = this is the object of the email your audience will receive.
Results:

Open rate = Number of opened emails / number of delivered emails (here 48/310 = 15.48%). We indicate both the percentage and the value (blue circle).
Click rate = Number of clicks / number of delivered emails (here 12/310 = 3.87%). We indicate both the percentage and the value (green circle).
Unsubscribed = amount of people that unsubscribed from the mailing list (contact list). Therefore you won't be able to send them emails.
Bounced=Number of both unregistered and non-existing email addresses. Typos and emails sent to unsubscribed email addresses are causes of "bounced" emails.
Complained = When your email is reported as Spam by the recipient.
Links clicked:

Here you have an overview of the links included in your mailer. You can see the number of clicks each link generated. Here the link generated 12 clicks.
Recipients:

Detailed information about each recipient: when the email has been delivered; if opened, when; if it has been clicked and how many links; and the status (blacklisted, bounced).