How can I send SMS Messages from a Microsoft Excel worksheet?
Go to Send messages app via the My Apps menu in the right corner and click on the green "Send from Excel" button.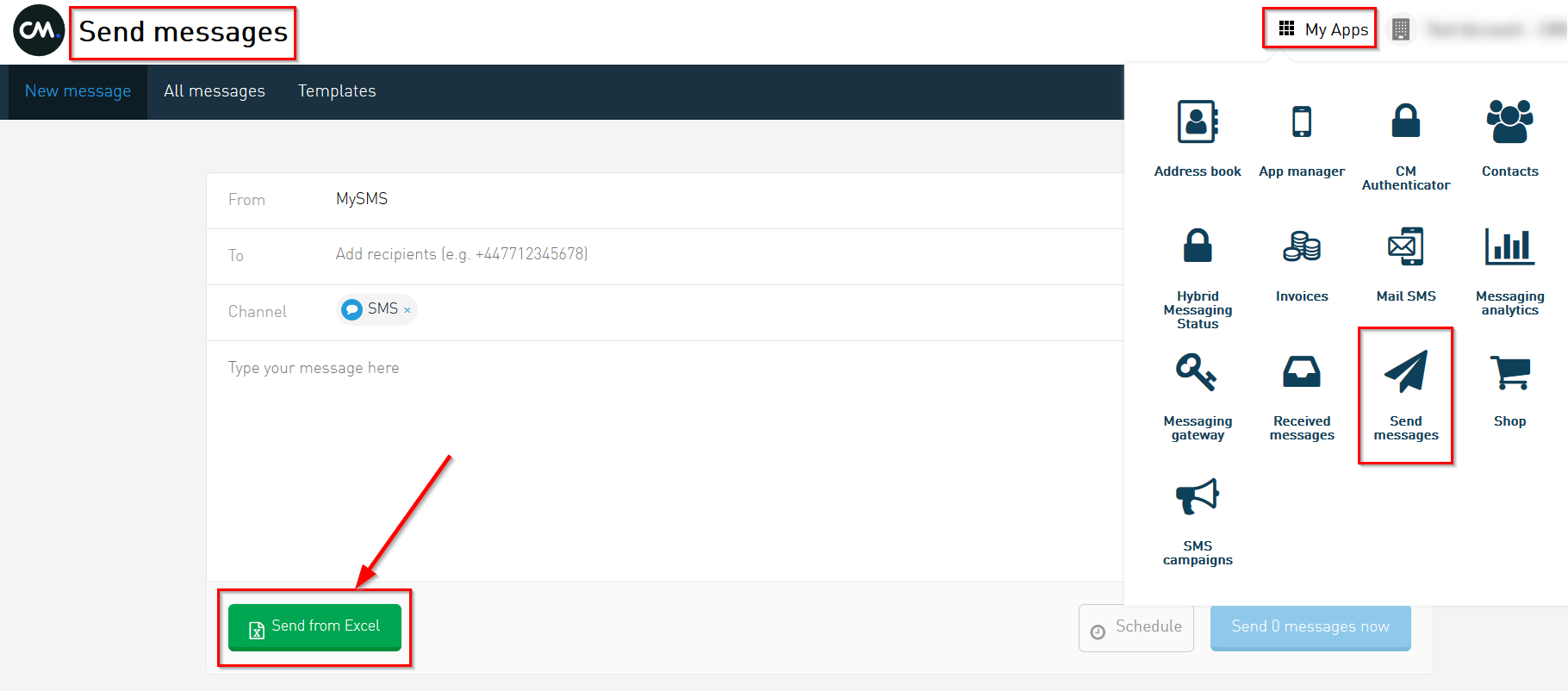 Upload: Upload your Excel file with the mobile numbers you want to send a message to. You can also upload a specific message text for each phone number in a second column.

Start with uploading your Microsoft Excel list with mobile numbers. We support .xls, .xlsx, .ods and .csv files from Microsoft Excel 2003 or LibreOffice. At this moment we support up to 1.000.000 rows you can download an example spreadsheet to use as template.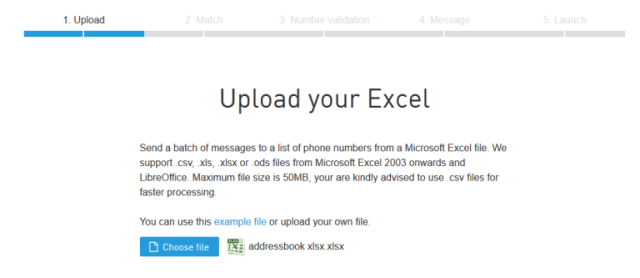 Match: Select the column in which the mobile numbers are stored, and if applicable, the column that contains the message body

The platform will identify all the active columns in your file and present them to you. Please select the column in which the mobile phone numbers are placed and if applicable the column in which the message bodies are located. All other columns will be omitted.



When the first row of the file contains contact data instead of headers you need to check the "The first row of the Excel contains contact data and should be used"-checkbox at this step; so the first row is also processed.

Number validation: All numbers are checked for syntax validity; you can change the invalid ones.

All mobile phone numbers will be validated to check whether they are valid phone numbers. Please format all the numbers using the international format by adding country codes. Here(link) you can read a bit more background to formatting international telephone numbers. When a phone number isn't validated correctly, you can change it before sending or remove that number from your batch.

Message: If your source file does not contain message bodies please compose the message you want to send to all recipients.
Compose the message body if it wasn't incluced in the Excel file. You can compose a text and send it to all recipients.
At the bottom of the input box you'll find a counter. This counter shows the amount of characters in your message, the number of characters left and whether it is a Unicode message you are about send. A message using the standard GSM alphabet can contain 160 characters. When you use the Unicode alphabet you are limited to 70 characters. When you use more characters the message will be sent in multiple parts.
After composing the message text you need to input or select the sender for your message. A sender (originator) can contain a maximum of 11 characters. If you send messages to operators that do not allow an alphanumeric sender name we will overwrite the sender with a numerical one.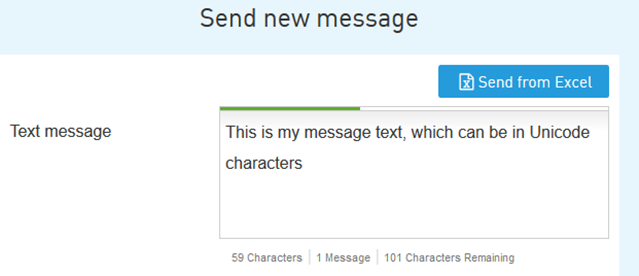 Launch: Send your Excel batch directly or schedule it for dispatch on a later moment. The recipients can also be saved as a group for repeated sending.
The last step to take is to send your message. You can send it immediately or schedule it for a later moment. For smaller batches (less than 500 recipients) the batch can be saved as a group for a future dispatch. Now your message is ready to go!