Landing pages can be built via the Landing page editor. Simply go to the Landing Pages app, then Template and click on Add.
Add a new Template via the Add button
Click on Edit Template to redesign previously built templates or
Click on the dropdown arrow to delete or Clone a template so you can keep the original

After you've created a new template you arrive in the drag-n-drop template editor. To send your Landing page you need to go through 4 steps.
Set a template name
Build your Landing page
Save template
Go to SMS Campaigns to send the template
1. Next to template, fill-out your campaign name

2. Build your Landing page Hold 1 of the content blocks and drop the block in the preferred section of the Landing page. A typical design of a Landing page has:
A. an image,
B. a personalised text block,
C. a button and
D. a video.
An image
Drag and drop the image to the top part of the template.
Select/upload your image
Adjust the size in the margin section (click on "Image" on the right side of the screen and then "Style). Tip: The delete the white bars on each side, click the toggle button in Margin and set left and right margin on -15px.
Personalised text block
Drag and drop the text block to the template.
Click on the text block to enable editing Tip: When you personalise a landing page, send a test message to yourself first by sending the Landing page to a group with only you in the group. Check Address Book articles to be explained how you can do this.
A button
Drag and drop the button to the template.
Change the text in the text block (i.e. "Click here")
Change the link type if necessary, link is sufficient for standard website links.
Add the url to the Link field
Analytics tags can help you identify links in the analytics section Tip: You can also personalise a link by adding a primary merge tag in the link section (i.e. [[Company]])
A video
Drag and drop the video to the template.
Copy-paste a Youtube or Vimeo url into the input field
3. Save the template Finished: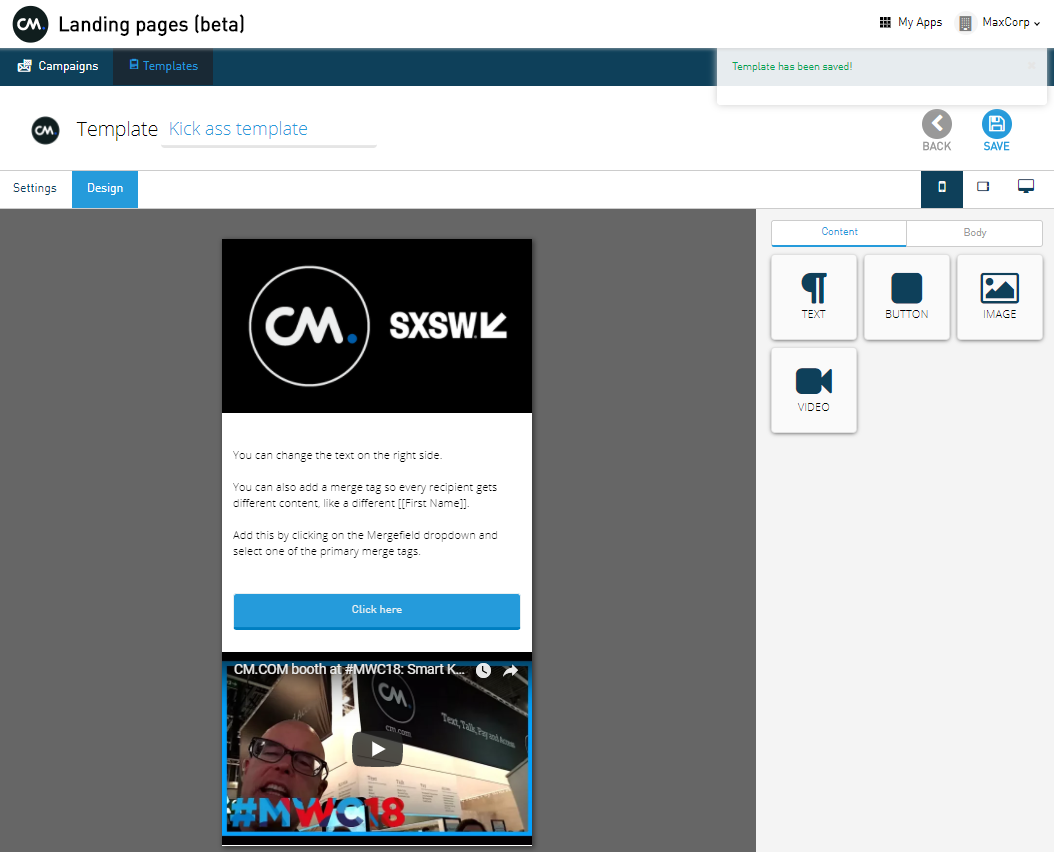 4. Send your Template
Go to SMS Campaigns
Make a new campaign +
Select a group
Select a Landing page template
Click on the Landing page button to add the Landing page as a link in the SMS and click on Apply
Send the campaign Tip: Apple users get a small preview of Landing pages, that small preview will always display a CM-style preview. If this is a problem, please make sure the Landing page link is surrounded by text - this will block the preview in iOS/iPhones